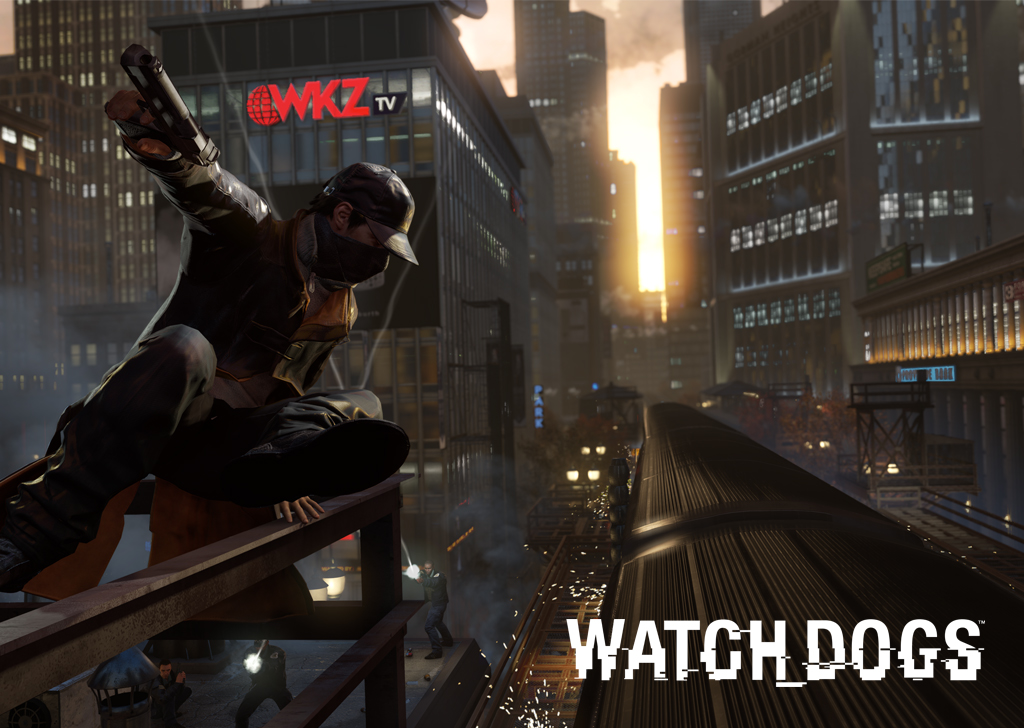 After playing and beating Watchdogs for the WiiU I have finnally decided to review this movie.. I mean game...
The gameplay is a GTA style with press Y to "hack"(do action from distance, take control of camera and use object).... The story and plot at first feels kinda unquie with refferences to Anoymous groups, and real world hackings, and then goes into HERPA DERPA SMART CITY.... Then after this it feels like movies after meeting "badboy"... Several movies it feels like it is stealing from... and even the character design of a few of the characters seems like movie characters.... Several lines of dialog I can recall hearing from movies but I know not which ones at this point....
The Good
The good of the game is it's length... for a modern game it is very long, it is filled with content that will leave you days of play time, some of it enjoyable some not so much.... The mini games are fun.... well worth playing... and some are right down addicting while others are just bleh.... it is a hit and miss with the mini games but for the most part they are good each one in different ways... but I had a hard time putting down madness... The graphics were amazing, and the seemless transitions without loading, or hickups in framerates between going from one area to the next with still a highlevel of detail is nice, and only goes to show WB games to being liars with their excuse why Arkhamknight isn't going to WiiU. Probably the closest thing to GTA to hit a Nintendo console ever. Just keep in mind it took infamouses Karma system, so killing everyone in sight unless you want to be a villian is a bad thing... even though as a vigilanty you constantly get harassed for killing bad guys with no other way to take down enforcers than killing them, so no passivist way of playing this game possible.
The bad
The game just felt like a knock off of several different works, and all the "villians" and not so villians (bedbug, and jordi felt like knock offs of characters from the same movies they took the dialog from... Like I said I can't recall any of the movies but it is a lot of them... as a lot of the characters designs, and dialog are all over the place.....
I didn't feel like this was a new experience even in the level design... the pawnee district is the most unquie and memorable one but it reminds me of alan wake's level design but dull not the twisted parts, just the town by itself....
The game felt like a rehashing of various movies, with references to other materials with no new ideas added other than the mini games which were just refferences to other games and yet again movies that are blatinly obvious... Such as the "Digital Trip" Madness, being a carmigendan & the horror movie
The Car
a 1970's movie reference....
These small minigames are probably the most enjoyable parts of the game, as a few are somewhat unquie and actuall break from the GTA cloneitise.
Not meaning to say GTA was the first to pull a open world style gameplay within a urban city there was plenty of games that did this before, the difference is what people can identify it with and where it obviously took from its gameplay to some degree...
Back to the game though....
The Ugly
The game has many other issues a swell with a broken cover system... Glitchy AI... and other issues...
Let me explain...
The first issue I noticed was with the cover system... It goes to the nearest cover some times and other times where you are pointing but not what side you want to cover at... I died several times because a NPC could shoot me from angles that didn't make since while covered... Then some times I would end up covering mid combat right infront of them instead of where I was pointing at. Which was annoying...
Another issue is enemies can stick their guns through objects shoot and hit you... if you are a floor under a enemy on a slope they can see you, this became most noticeable for me in the "Gang Hangout" side quests where they were inside of parking garages. One there is a spiral slope parking garage the other is just a standard parking garage... I had to redo both at least 10 times because of the AI's could see me through the floor and shoot through it... and kill me instantly basically..
The game freezes a lot on the WiiU, it froze atleast 4 times on me, all the times where when Defalt was when you were being messed with by other hackers and they had special effects that were suppose to play they would either happen and be bugged or wouldn't happen, either way the game would freeze up and lock up after... Keep in mind each loading screen takes so long through otu the game. You fail a mission, die, or game freezes so you have to load game, well you will be sitting there for atleast 2-5 minuets each time... maybe it is because I got the disc version of the game, and I have been so use to HDD speeds but it really hurts to wait so long...
The major issue with this game is well it takes from other games, and it was hyped up so massive.... especially for the WiiU with doing nothing really different from the other versions... only adding a map like the batman ports to the bottom, and taking so long to come out for the system... These major developers really screw over the WiiU audience then when they realize they could earn more money by making a game it is often just too late, with only giving excuses that don't add up from any perspective that you look at it. Just like Batman Arkham Night I am sure they will blame the user base for belittling them just a year ago, insulting the platform and the gamers on it and expecting it to sell twice as much as it did on anything else after they burned bridges with excuses...
Conclusion:
The game is much like this review is, all over the place with no central focus sending mixed messages.... riddled with errors and problems, along with holes.... plot holes for the game, logic holes for this review..
π*2/10 Lines of Code
Don't like my rating system too bad...